Beginning in the early 1970s, airport planners in Illinois, Missouri, and the Federal Aviation Administration (FAA) were concerned about limited capacity of commercial air facilities to meet future air travel and cargo needs in the St. Louis region. Several airport locations and feasibility studies were conducted, but a final consensus on location could not be reached.
By 1985, burgeoning air traffic and capacity limitations in the St. Louis region caused the FAA, in cooperation with the Illinois Department of Transportation (IDOT), to commission a study of the feasibility for expanding airport facilities at Scott Air Force Base (Scott AFB) to serve both the military and civil users and provide a commercial reliever for Lambert-St. Louis International Airport. 
A feasibility study was prepared to determine the potential use of Scott AFB as a joint civil/military airport to supplement existing air facilities in the St. Louis metropolitan area. The study and associated public hearings, completed in April 1986, concluded that it would be both feasible and cost effective to expand Scott AFB as a joint civil/military airport. In 1991, the Air Force, through a contract with Argonne Laboratories, completed a comprehensive Environmental Impact Statement, which was followed by favorable Records of Decision issued by the Secretary of the Air Force and the FAA in early September 1991. On September 16, 1991, a Joint Use Agreement was signed by the Air Force and St. Clair County, clearing the way for development of joint civil/military airport facilities at Scott AFB.
FAA certified MidAmerica St. Louis Airport (BLV) for operations in October 1997 and opened for operation in May 1998. The airport is owned by St. Clair County and is operated by the St. Clair County Public Building Commission. BLV is one of only 21 joint use airports in the nation (10 Air Force; 10 Army; 1 Navy).
In September 2016, the renewal of the Scott Joint Use agreement between the Air Force and St. Clair County was executed for a term of 25 years, through 2041.
During construction, the airport was referred to as "The Scott Joint Use Airport." Upon opening, the original airport name was simply MidAmerica Airport. Eventually, the airport name was changed to MidAmerica St. Louis Airport to provide geographic association with St. Louis and the logo was updated to the current logo.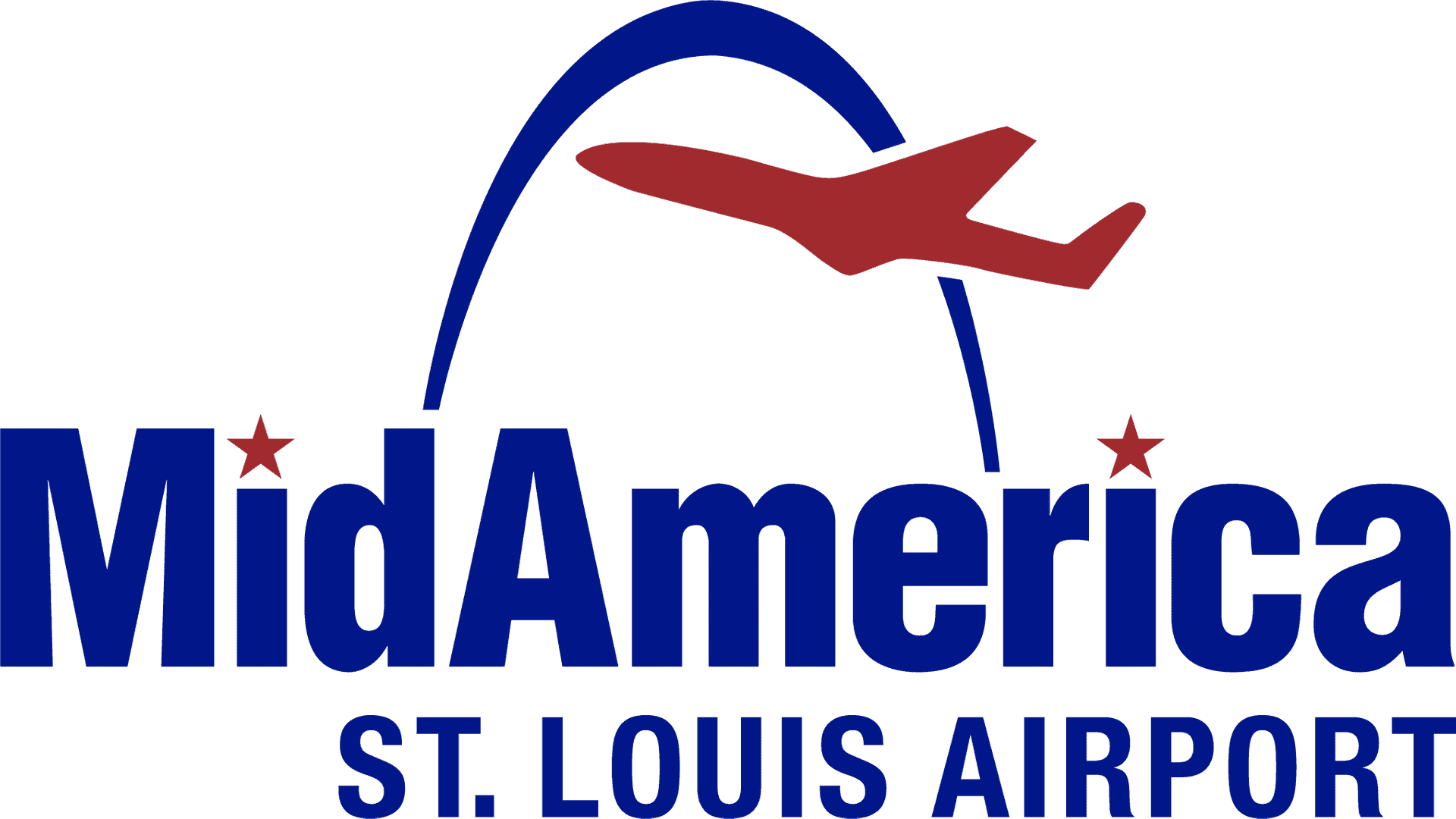 In July 2000, Pan American Airways began operation at BLV. Due to the events of September 11 and the decline of air travel, Pan Am ceased operations at BLV in December 2001.
Great Plains Airlines launched service in October 2003. The airline filed for Chapter 11 bankruptcy in January 2004 and ultimately ceased operations.
In November 2004, TransMeridian Airlines began operations. The airline filed for bankruptcy in September 2005 and ceased operations.
Allegiant Air began service at BLV in April 2005 with service to Las Vegas and Orlando-Sanford. Allegiant suspended service at BLV from 2009 to 2012. Upon restarting service, Allegiant has grown service significantly, making BLV one of the fastest growing airports in the country. Presently there are direct flights to 11 destinations from BLV.
MidAmerica St. Louis Airport is currently considered a "primary non-hub" airport. Publicly owned airports receiving scheduled passenger service that have more than 10,000 passenger boardings—also known as enplanements—each year are considered primary airports.
The Bureau of Transportation Statistics reports current statistics on their website. Enplanements for BLV over the last 5 years are shown to your right.
In addition to passenger service, the number of airport tenants have grown steadily over the years. Following is a timeline of some of the major airport tenants:
AVMATS – 2002 (Paint Hangar in 2004)
Illinois State Police – 2004
IL Army National Guard Readiness Center – 2005
Customs and Border Protection – 2007
Boeing St. Clair Production Facility – 2010 (expansion in 2019)
North Bay Produce – 2012 (expansion in 2013)
North American Helicopter – 2021